MAY, 2021 is
RED-HOT, RED-HOT
RED-HOT
for Flounder Gigging!
Besides Flounder, they are also Gigging Huge Sheepshead, Mullet, Black Drum and Whiting.
You can also get up to Eight (8) Redfish (Red Drum) and up to 70 gallons of Blue Crabs while on the
Flounder Adventure!
For the most unique charter fishing experience anywhere, also known as the Adventure of a Night-time, we at Amelia Island Charter Fishing highly-recommend Flounder Gigging Charters out of Jacksonville, Florida 32034, which is located only 10 minutes from Amelia Island, Florida. Their charter rate for 4 hours of flounder gigging for up to 6 people (who can all fish at once) is very competitive. Capt Mac's preferred flounder gigging locations are only a short distance away so there is no long boat ride to lose valuable fishing time.
Departing right at sunset, these 5-star Flounder Gigging charter adventures are truly the Adventure of a Night-time. Visit their web site, http://www.floundergigging.com for more information and pictures of what they've been catching lately.
We recently caught up with and interviewed
the energetic Captain Mac
(shown below as taken in MAY, 2021 after doing
three charters in one night)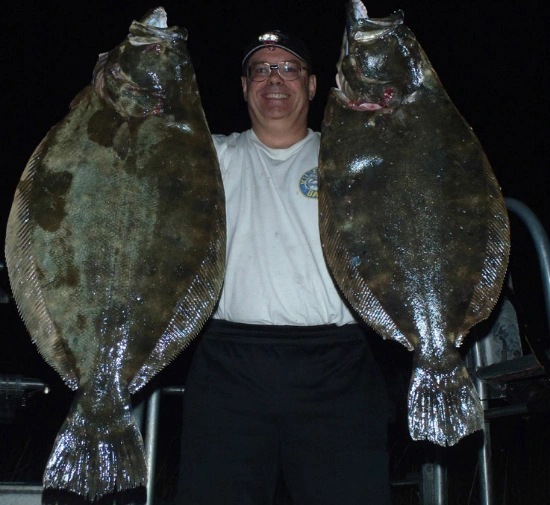 and here the way he described his Adventure of a Night-time fishing charters:
"My goal for my Clients, most of whom are repeat business, is to catch a cooler full of delicious, salt-water fish while having a great time with your Friends or Family enjoying a peaceful evening on the water underneath the night-time stars, moon and celestial constellations all while floating above an incredibly-abundant variety of saltwater life swimming underneath the boat lights. Our Customers routinely compare these visual effects our excusions offer to floating over an immense saltwater aquarium."

"Besides Flounder, we can gig Sheepshead, Whiting,, Mullet and Black Drum. We can also catch plenty of delicious Redfish (Red Drum) and Spotted Sea Trout and the Kids have a blast filling up the cooler and limit-out with an abundance of Blue Crabs. As we skirt along the saltwater marshes and estuaries (the boat drafts only 6" of water with a full party aboard) you will see Great Heron birds on the shoreline and the occasional Raccoon. We see many varities of Manta Rays, Stone Crabs and oftentimes a Manatee. Our fishing charters offer the unique opportunity to get a cooler full of a large variety of fish all while enjoying the great outdoors underneath the majestic night-time starry sky."
Captain Mac Daniel of Flounder Gigging Charters is easily the most talented and productive Guide in Amelia Island and Jacksonville, Florida and the very best Flounder Gigging guide in the entire United States and we recommend him highly. His Customers rave to us over and over about his ability to put them on the fish and how exciting the night-time charters are.

MAY, 2021 flounder gigging is RED-HOT! Flounder Gigging Charters with Capt Mac is the best value anywhere, has the most experience of any local Captain, Capt Mac is a 3rd generation local Native and has 40 years of flounder gigging experience (look at all the pictures on his web site) and he takes up to 6 people at once (no other charter boat does this in the backwater).

To reserve your Adventure of a Night-time, call or text Captain Mac of Flounder Gigging Charters direct at 904-556-0230 or e-mail him at floundergigging@aol.com. You will be GLAD you did!